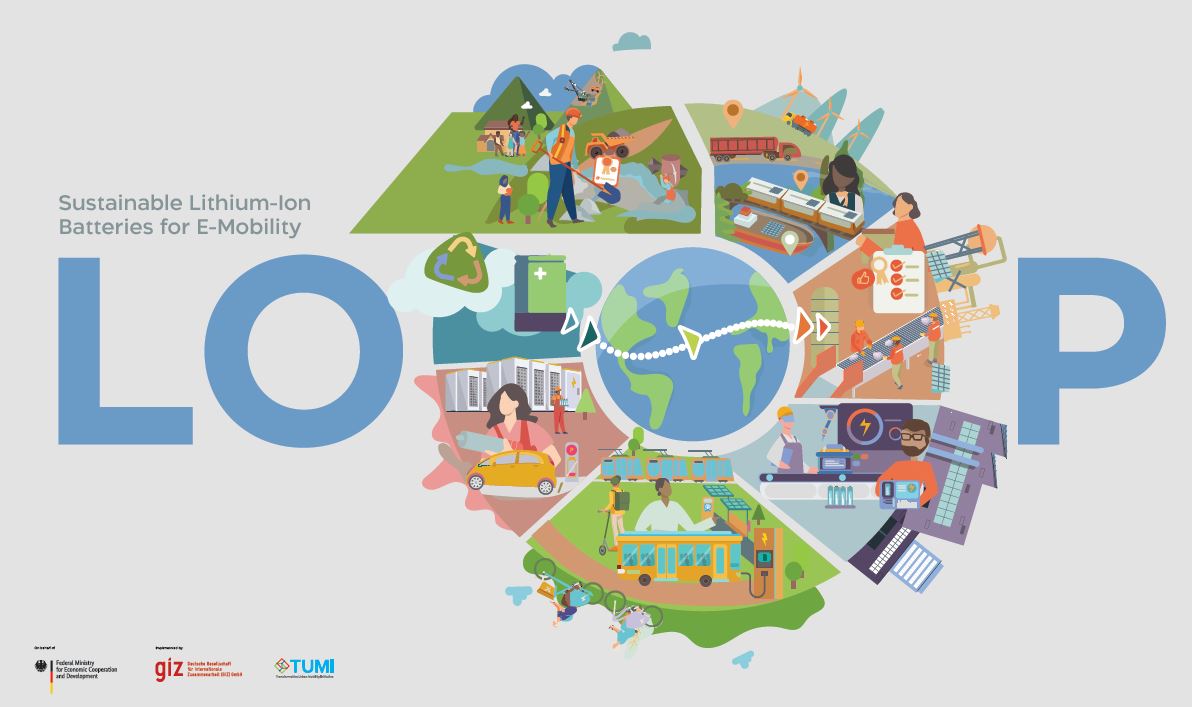 03.05.2022

Sustainable Lithium-Ion Batteries for E-Mobility
The transport sector is responsible for around one quarter of energy-related greenhouse gas emissions worldwide. E-Mobility is considered a key element in decarbonizing the sector and numbers of electric vehicles (EV) are increasing quickly. Most EVs (such as e-buses, e-bicycles, e-cars) currently use lithium-ion batteries as their main energy storage. With batteries being the biggest components of EVs, their composition, production, and usage play an important role for the overall sustainability of the vehicles. Therefore, it is important to make their value chains from extraction to recycling environmentally and socially responsible. 
Together with the Transformative Urban Mobility Initiative (External link) (TUMI) and the Sector Programme "Sustainable Waste Management and Circular Economy (External link)", "Extractives and Development" developed an action guide for the sustainable use of batteries. The recommendations for introducing sustainability aspects along the life-cycle of lithium-ion batteries are presented in the poster "Sustainable Lithium-Ion Batteries for E-Mobility (External link)". It showcases the seven most important steps in the life of an EV battery:
Raw Material Extraction: Creating a mining sector that respects social and ecological factors as well as our climate. The publication Raw materials for electric mobility

(External link)

gives a detailed overview.
Transport of raw materials: Using sustainable transport modes to transport all battery materials along the production chain.
Raw Material Processing: Ensuring fair and transparent production processes throughout the entire supply chain. Check out the briefing note on How mining can support economic growth

(External link)

to learn more about this step.
Battery Design & Production: Designing batteries for durability, modularity, and circularity.
Battery Use in E-Mobility: Using renewable energy to charge Li-Ion Batteries of EVs in all electric transport modes to bring down emissions.
Further Use/Second Life: Extending the lifetime of batteries through re-use in other applications such as solar energy storage.
Recycling: Setting-up take-back systems for sustainable recycling financed through extended producer responsibility.
Download the poster to find out more detailed recommendations on the different steps. Feel free to share the poster with decision-makers in your networks who work on e-mobility, raw materials, or circular economy. Together we work towards making all process steps in the life of EV batteries more sustainable.
For any questions, please reach out to Lisa.Stellner@giz.de (External link) .